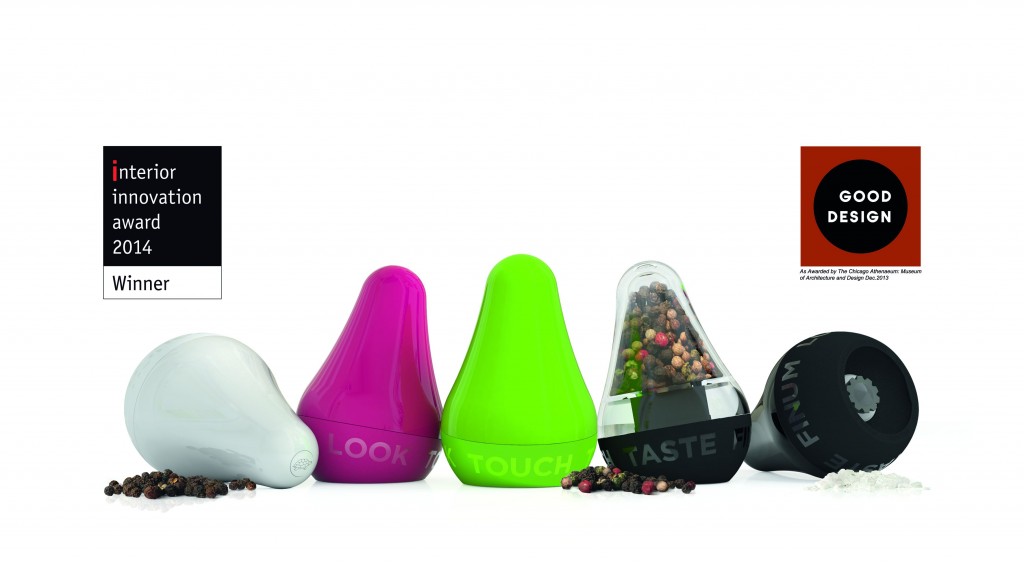 Winner of the Interior Innovation Award and the GOOD DESIGN Award : finum´s LOOK TOUCH TASTE
The winner of Interior Innovation Award 2014* and GOOD DESIGN™ Award*, LOOK TOUCH TASTE™ is a patented spice grinder carrying the curvy shape of a bell. At its bottom there is a patented collecting pool which gathers the ground spices within. By tapping it, you can direct the desired amount of spices precisely where you want it!
With an elegant outer design that attracts the eye, finum®´s LOOK TOUCH TASTE™ is so much more. It includes a ceramic grinder mechanism that has passed a durability test equal to 200 years usage in a normal household. Salt, pepper or herbs can be ground with no risk of oxidization or any other chemical reaction affecting aroma or flavor. LOOK TOUCH TASTE™ adjusts the coarseness of your grinding.
• no risk of oxidization
• vertical / side grinding
• adjustable coarseness of grinding
• easy to clean
• available in five colors ( black, white, ruby red, apple green & transparent / black)
*Regarding Interior Innovation Award: It is considered one of the most renowned design awards in the global interior furnishing industry. It is sponsored by the imm cologne trade fair and organized by the German Design Council. The Interior Innovation Award stands for first-class innovative achievements within the interior design market.
*Regarding GOOD DESIGN™ Award: The GOOD DESIGN™ Award is the most prestigious, innovative, cutting-edge industrial world design award presented by the Chicago Athenaeum: Museum of Architecture and Design and Metropolitan Arts Press Ltd.